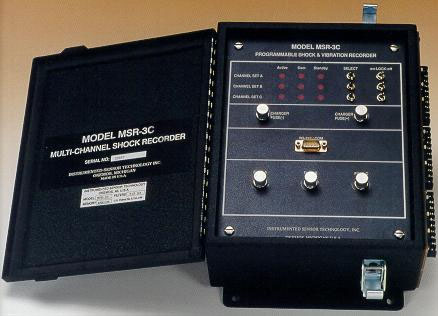 Highlights:
Field-Portable Digital Waveform Recording
Automatic Date & Time Tagging On Records
Programmable Time or Amplitude Triggering
Programmable Sample Rate To 3200 sps/ch
Up to 9-Channel Recording Capability
3MB To 12MB Onboard Storage
54dB Dynamic Range (10-bit A/D)
3-Channel Temperature/Humidity Option
Battery Powered, 10-20 Day Operation
Small Size 10"x8"x4", 16 lbs
Self-Contained-Mounts In Any Orientation
NEW -- Download via serial & USB.
3 External Trigger Channels
User Selectable Channel Triggering
COMPLETELY User-Programmable
Description
The MSR-3C is a self-contained low cost portable accelerometer data logger unit with a multi-channel, digital acceleration waveform recording system. Our portable acceleration data logger system is battery powered, designed for field applications requiring multi-channel, extended time, unattended acceleration monitoring and recording. The portable accelerometer MSR-3C is programmed for test via a standard serial interface (New: also via USB (serial port emulation)  to a PC using either of two optional software packages. After field recording is complete data is transferred back to the host computer for processing and analysis.
Each portable acceleration data logger unit is powered by three built-in, rechargeable battery packs. Our portable acceleration data logger's recording function is controlled by three microprocessor-based digital data acquisition systems. Each of the systems is devoted to data acquisition on one of the three separate, three input channel sets. Channel sets may be tied together for simultaneous triggered acquisition, or allowed to operate independently. During active recording acceleration signals on each channel are digitized to 10 bit resolution and stored in digital memory within the unit. The MSR-3C offers 1 megabyte of data storage capacity per 3 channel set with 3 megabyte total data memory (12MB Optional). The MSR-3C also offers three input channels for optional temperature and temperature/relative humidity probes. Temperature and relative humidity recording occurs independent of acceleration recording, at regular, user-programmable time intervals.
Programmability
The low cost portable accelerometer data logger, MSR-3C, is completely user programmable via a serial & USB (serial port Emulation) interface to a host computer. Each of the three, 3-channel sets are programmed independently, and may use identical or differing recording parameters depending upon application.
Triggering
The MSR-3C accelerometer data logger may be programmed to support accurate recording of either transient shock data or pseudo-stationary vibration data. The unit may be programmed to operate under either event (amplitude-based) or time (delay-based) triggered recording. Once triggered, digital recording takes place simultaneously on all three channels of the triggered channel (set). Channel sets may be configured to trigger independently or globally. When operating under event triggered recording, a user selectable amplitude threshold (g-level) in conjunction with an acceleration time duration threshold (milliseconds) provides the trigger criterion.
Using this threshold combination selective capture of transient shock based upon measured duration as well as amplitude is possible. Record sample lengths may be pre-selected using specific pre- and post-trigger sample lengths, or allowed to be data dependent. Each of the three channel sets has an associated real-time clock for event time indexing. All recorded acceleration time histories are automatically time indexed upon acquisition for subsequent host-computer based analysis.
Memory Modes
The MSR-3C portable accelerometer data logger has two different user-selectable memory mode storage features that are available for handling large numbers of acceleration records. A first fill & stop memory mode causes recording of all records satisfying the trigger criterion sequentially in time until the digital memory ( within the three-channel set ) is full.
A second overwrite memory mode option causes selective recording ( and re-recording) in digital memory of a pre-selectable number of records exhibiting the largest RMS levels of all records measured by the respective three channel set. This powerful memory mode feature can be used to guarantee that the highest-level acceleration records will be retained in memory upon completion of the field test.
Trigger Channel Selection
The portable accelerometer data logger MSR-3C may be configured for trigger criterion on any one or more of three channels within a particular three-input channel set. Triggering may be independently software enabled or disabled by the user for each input channel within each three-channel set. An auxiliary (external) trigger is also available for each three-input channel set. The trigger channel can be used for driving internal trigger signals out, as well as triggering the internal channels from an externally derived trigger signal.
Additional programmable parameters for the MSR-3C accelerometer data logger are digital sample frequency (125-3200sps/channel), overall start and stop times for active sensing/recording, and time interval for temperature/humidity recording.
Power Supply
Battery Pack
The MSR-3C portable accelerometer is equipped with a dedicated, built-in battery pack for each of the three channel sets. This provides added redundancy in field operation in the event of battery failure on any single channel set. Each pack consists of a sealed gel-cell rechargeable battery. When fully charged each pack can power the respective MSR-3C channel set from 12 to 25 days depending upon user-programmed digital sample rate per channel set.
Automatic Battery Charger
Built into the MSR-3C portable accelerometer is an automatic HI/LO battery charger circuit for each of the three internal battery packs. The battery charger can be powered from an external, unregulated DC supply ranging 12 to 18 volts.
The charger automatically adjusts charge rate to maintain batteries at a full level of charge. The MSR-3C accelerometer may be operated with an external power supply connected indefinitely with automatic charging maintained continuously. Each charger circuit is independently fused with fuse access on the main control panel.
An AC/DC charger module is also supplied with the MSR-3C for charging batteries from standard 115VAC line power.
Housing
The MSR-3C portable accelerometer data logger is constructed in a heavy duty, weather resistant housing. Access to the control panel is available under a gasket-sealed, hinged, top cover. Sensor inputs and trigger channels are laid out on a gasketed sub-panel on the outside of the MSR-3C housing. All exposed connectors are supplied with sealing caps for water resistance. The MSR-3C portable accelerometer data logger housing is constructed with a base mounting flange and four holes for rigid mounting to a supporting structure. The MSR-3C may be mounted in any orientation.
Input Channel Characteristics
Accelerometer Input Channels
The MSR-3C low cost, portable accelerometer data logger is designed to support data acquisition from either differential or single ended analog accelerometer inputs (piezoresistive or piezoelectric). Standard units are supplied with nine single-ended input channels for use with piezoelectric (PE) accelerometers. PE input channels are designed for use with integrated-electronics, voltage-mode type accelerometers. Accelerometers are powered from the MSR-3C itself and require no additional power supplies. As an option the MSR-3C portable accelerometer can be supplied with nine differential input channels for use with piezoresistive (PR) accelerometer inputs. The MSR-3C portable accelerometer can also be provided with both sets of sensor input channels available, providing the user with greater flexibility in transducer selection and application. The host computer set-up software enables selection of either PR or PE input channels for data acquisition.
Digitally Controlled Auto-Zeroing
The MSR-3C portable accelerometer data logger is equipped with digital auto-zero capability on all accelerometer input channels. This feature is designed to correct for DC offset drift, characteristic of PE accelerometers subsequent to transient excitations, as well as PR accelerometers over wide temperature ranges. The digital auto-zero provides automatic offset correction at the rate of 1 percent of full scale per second.
Signal Filtering
Each accelerometer input channel is filtered prior to digitization utilizing a 4th-order Sallen-Key analog low-pass filter. 3dB filter cut-off frequencies are fixed at the time of manufacture. Specific analog filter cut-offs ranging from 60Hz to 1915Hz can be chosen by the customer at the time of order to accommodate specific data bandwidth requirements.
Temperature/Humidity Inputs Channels
Each of the three channel sets on the MSR-3C portable accelerometer data logger channel sets is equipped with a temperature sensor input and a combined temperature/relative humidity sensor input. Temperature and humidity channel inputs are designed for use with cabled sensor assemblies supplied by IST. The temperature sensor input channel is designed for use with an integrated circuit-type temperature-to-current converter, with a gain of approximately 1 micro-Amp per degree Kelvin change in temperature.
The MSR-3C portable accelerometer's humidity input channels are designed for an integrated temperature + relative humidity (RH) sensor assembly supplied by IST. The humidity sensor provides a linear output voltage from 0 to 5 volts over changes in RH from approximately 5 to 95 percent.
Software Set-Up Data Recovery Analysis
IST supplies its DynaMax software package for MSR-3C portable accelerometer's set-up (programming) and recorded data recovery. The software package is menu-driven requiring no software programming skills on behalf of the user. The package provides an easily-navigated environment for selecting operational parameters for the MSR-3C, as well as processing recorded data for generation of automatic report formats. Packages are equipped with tabular report formats, interactive waveform graphics analysis, and statistical analysis of recorded acceleration, RMS, and crest factor levels. A complete power spectral density analysis capability is also available for MSR-3C applications involving random vibration recording.
TYPICAL MSR-3C APPLICATIONS
Vehicular Environments
Industrial Material Handling
Ship/Submarine Shock Monitoring
Avionics Reliability
Railcar Coupling Impacts
Vehicular Crash Testing
Vehicle Test Track Qualification
Cargo Shipping & Handling
Armament Environmental Monitoring
Environmental Test Level Qualification
Concealed Environmental Monitoring
Industrial Vibration Monitoring