MotionMaster™ (Model EDR-6DOF Series) Portable Recorder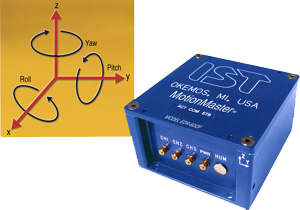 Use IST's  MotionMaster ™  is a portable accelerometer that's used as an acceleration data logger that has angular rate sensors and to characterize 6DOF motion environments of amusement rides, airborne vehicles, watercraft, underwater vehicles, vehicular crashes, shipping environments and more!
Six-channel, Six-axis acceleration sensor/recorder
Onboard 3-axis linear accelerometers - x,y,z
Onboard 3-axis angular rate sensors - roll, pitch, yaw
Eight (8) MB onboard data storage
Simultaneous 6-ch digitization of 3200 sps/ch
Completely user programmable
Setup and Download via USB
Completely self-contained, battery powered, rugged
Comprehensive user interface software for setup, data download and time & frequency domain analysis
Flight qualified, intrinsically safe
-40 to +70 deg C operating range
Patented. U.S. Patent number 7,028,546
Description
The MotionMaster ™ (EDR-6DOF) is a portable accelerometer, digital angular rate sensor recorder designed to measure shock & vibration, angular rates, temperature and (as an option) humidity, The programmable unit tags all angular velocity and linear acceleration events with a time and date to provide a time history of the dynamic environment experienced during a recording session.
The EDR-6DOF recorder offers a time-tested reputation for proven performance and reliability. The EDR-6DOF is built upon the EDR-3C portable accelerometer series platform. Each recorder is powered by a specially designed 9 Volt battery pack.
The EDR-6DOF is used in conjunction with DynaMax programs and downloads the EDR-6DOF's memory via a standard PC USB.  Together, the EDR-6DOF and the DynaMax software program provide a powerful tool for accurately recording and analyzing dynamic environments.
 Certifications
The EDR-6DOF series has several certifications allowing it to be used in many useful applications. Contact IST if you've got a specification, chances are we have equipment to meet your specs:
Meets MIL-STD-810F, most test methods
Non-incendive environments (intrinsic safety)
Flight Qualified (MIL-STD-461 RE02)
Manned Space Flight Qualified by NASA
Applications
The EDR-6DOF portable acceleration data loggers / recorders have been designed for applications that require remote, unattended monitoring and recording of shock and vibration data over long periods of time. Their ultra-small size and weight, combined with their extraordinary recording and programmability features make them ideal for applications where space and weight come at a premium. Since human monitoring during recording is not required, personnel cost associated with the field testing using the EDR-6DOF can be reduced significantly. The instruments also provide a high degree of operational reliability under harsh environmental test conditions.
Specific applications of the EDR-6DOF include:
Flight Testing
Watercraft Testing
Vehicle Handling
Intermodal Transport Studies
Avionics Environmental Reliability
Concealed Monitoring
Package Test Shipments
Railcar Hunting
Crash Recording
Brake Testing
Environmental Test Level Qualifications
Parachute Testing
In-Use Environments