EDR-4 (Panther) Shock & Vibration Sensor / Recorder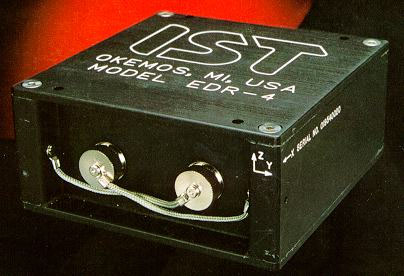 Highlights:
Triggered Waveform Recording
3 & 6 - Channel Capabilities
12-bit A/D, 74dB Dynamic Range
Programmable Digitization to 15 KHz/CH
Three Single-Ended Inputs
Three Differential Inputs
Internal PR Triaxial Accelerometer (Rentals Offered)
Constant-Current Excitation For Low-Bias PE Accels
User Adjustable (DC) Offset Correction
Programmable Time or Event-Based Triggering
Programmable Anti-Alias Filter From 10Hz to 2+kHz
Programmable Gain Adjust
Sliding Window Overwrite Memory Management
USB Data Communications
Battery Powered for 30 - 60 Days
-40 to +70 deg C operating range
Intrinsically Safe
Description
The Model EDR -4 series recorders are self-contained, user-programmable acceleration sensor/recorders. The compact, 5lb. Package is designed for remote, stand-alone shock and vibration measurement and recording over extended time periods ranging from several hours to several weeks. The recorder is a precision field measurement instrument offering major improvements in recording speed, onboard data storage, dynamic range, data management, and programmability features. The PANTHER is programmed for test using a standard USB port, along with IST's DynaMax DMW-base software module. After Field recording data is transferred back to the host computer for processing and analysis. Each instrument is powered by a specially designed, user serviceable D-cell battery pack. The PANTHER's recording function is controlled by a custom designed recording and data management engine. The design is highly optimized for minimal power consumption while running at high, multi-channel digitization rates, and large data memory storage capacities.
During active recording acceleration signals are digitized to 12 bit resolution and stored in digital memory onboard the unit. For airborne applications the PANTHER is capable of recording upwards of 90 minutes of data while providing a 2kHz analysis bandwidth. For lower frequency ground transportation applications the unit is capable of recording continuously for several days before filing its memory. Data management in the PANTHER allows the unit to measure and record up to 32,000 individual 3-channel waveform sets comprising transient shock events or continuous vibration. The length of each event is user configurable enabling the unit to be tailored to particular measurement tasks. Acceleration recording can be configured for measurement from either the three internal(triaxial) accelerometer channels, or from up to three optional external accelerometer channel inputs.
Applications
The PANTHER has been designed for applications requiring remote, unattended recording of high speed dynamic phenomenon over relatively long periods of time.
The rugged, shock hardened unit is ideal for conducting unattended recording sessions in harsh environments. Features available in the PANTHER make it an ideal instrument for applications ranging from in-depth transportation studies and laboratory simulations, to aircraft and spacecraft flight vibration recording to vehicular crash recording.
Certifications
The EDR-4 series has several certifications allowing it to be used in many useful applications. Contact IST if you've got a specification, chances are we have equipment to meet your specs:
Meets MIL-STD-810F, most test methods
Non-incendive environments (intrinsic safety)
Flight Qualified (MIL-STD-461 RE02)
Manned Space Flight Qualified by NASA
Use the Panther for.
Flight Vibration Recording
Crash Recording
In-Depth Transportation Monitoring
Random Vibration Test Spec Development
Launch Vehicle Vibration
Seismic Measurements
Blast Recording
Any Dynamic Measurement Project Requiring High-Speed, Large-Memory, Stand-Alone Measurement and Digital Recording